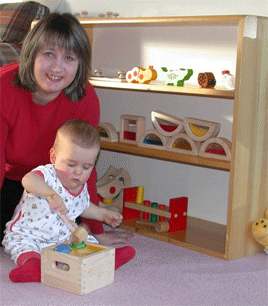 E & O Montessori International is a family owned business operated by a certified Montessori teacher. Olga has 3 Montessori diplomas:
AMI 3-6, MONTESSORI KURSUS, AKTION SONNENSCHEIN, Moscow. 1993-1994.
TORONTO MONTESSORI INSTITUTE (T.M.I.), Richmond Hill, Canada. 1998-1999.  
The TMI Primary Montessori Diploma 3-6.  
The TMI Elementary Montessori Diploma 6-12.
We have been supplying Montessori Schools and families worldwide with high quality Montessori Materials since 1993.
Our showroom is located in Ontario, Canada. We have Practical Life, Sensorial, Language, Math, >Biology, Life Cycles, Geography, History, Cultural Sets, Science, Wooden Science Kits, Toddler, Movement, Furniture, and Books - for Primary, Toddler, and Elementary classrooms – all essential Montessori Materials from the Pink Tower to the Large Bead Cabinet! We have the largest selection of Toddler Montessori Materials, including Toddler Montessori Staircase, and unique Wooden Panels. Our innovative, Wooden Science Kits challenge children of all ages to explore the link between science, design, and technology. Great for STEM  programs!
Every month we add new products to our website!
About our products
All of our Montessori Materials, including boxes, are made from high quality solid beechwood and feature the best European paints, glues and plywood. Our production line is equipped with modern, high standard machinery with strict quality control. Our raw material is treated with drying technology to achieve the correct temperature and moisture. We are accomplishing the newest technology and improving quality, working in cooperation with European and North American Montessori teachers and AMI Montessori trainers. We carefully follow the AMI standards. Our bead materials are the best in the world in the price/quality ratio. They are made of individual nylon beads and separately strung on copper wire. Our Wooden Cubes of 1000 and Wooden Squares of 100 are made of solid wood and are silk-screened, which means that the golden dots are printed directly onto finished wood. Our Number Cards are made of durable plastic, not paper.
Our Guarantee
We guarantee our products to be free from defects. Should you have a problem, please notify us within 14 days of receipt of your materials. Merchandise found to be defective will be replaced at our expense.
Replacement Pieces
We offer replacement pieces for all our Materials.
Orders
Orders can be placed online, faxed, e-mailed or telephoned and a fast delivery will follow.  
All international clients please e-mail us at montessori1907@gmail.com. Please write your e-mails in English. Your orders will be sent to you from our Canadian (Toronto) warehouse.  
Our Canadian and U.S. clients please e-mail us at montessori1907@gmail.com or call at (905) 313-0530 , or fax at (905) 313-0402.  
Your orders will be sent to you from our Canadian warehouse. You can visit our showroom in Richmond Hill, Ontario, Canada. (Greater Toronto Area).  
To receive our free catalogue, call, fax or e-mail us. Just let us know if you need more than one copy of the catalogue.  
We accept VISA, MasterCard, American Express, Cheque, Money Order.