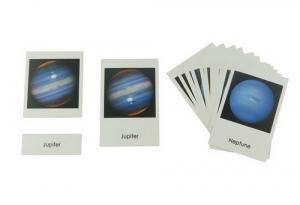 Introduce the planets and other elements in the solar system with these incredible photographs. Three part card set includes labels, photograph cards and control cards.
The whole set includes:
8 Image Cards, 8.5 x 10 cm
8 Label Cards, 8.5 x 3 cm
8 Control Cards, 8.5 x 13 cm
Laminated cards are ready for use. Three Compartment Box (3.11.6) for Classified Cards sold separately.
The following photographs are included in this set:
Earth
Mars
Saturn
Neptune
Jupiter
Venus
Mercury
Uranus
Subscribe to Montessori Materials Newsletter