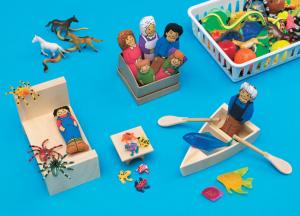 This rich array of miniature objects and props will coax even the most reluctant students to talk, ask questions, and extend their language skills.
Includes 77 objects, storage basket, 4 sorting cups with lids, and Teaching Guide.
Objects have been carefully chosen to expand children's vocabulary with rich details, and improve their usage of basic semantic and syntactic English structures.
Watch them master prepositions (in, on, over, under, etc.), tricky pronouns (all, some, none), and lots more.
Structured oral language lessons help native speakers and English language learners build oral language fluency.
Subscribe to Montessori Materials Newsletter